Obit of the Day: Share the Glove
Irving Franklin, founder of Franklin Sporting Goods, died at the age of 93. Franklin and his brother first made their money by supplying leather gloves to the U.S. Army during World War II. Following the war, the brothers moved their business focus into youth sporting goods, first with football equipment, then with baseball. The quality of their gloves, pads, and helmets eventually earned them contracts with both the NFL and Major League Baseball. The company set a historic precendent when they created a line of football equipment that was endorsed by an athlete. The athlete was Jets quarterback and Super Bowl III hero Joe Namath.
Since Franklin's death on November 10, various news reports have focused on Franklin's "invention" of the batting glove in partnership with Philadelphia Phillies Hall of Famer Mike Schmidt. In 1983 Schmidt met with Franklin to develop a standard batting glove, which Schmidt began to wear in the 1984 season, see above. What must be clarified is that Franklin and Schmidt did not actually invent the batting glove but developed the standard glove model that became popular throughout the majors.
Major leaguers wore gloves to reduce the sting of the bat as early as 1935. Paul Lukas, who runs the fantastic Uni Watch blog did a full history of the batting glove several years ago.
Even Schmidt wore batting gloves before 1984. Here's his 1973 rookie card: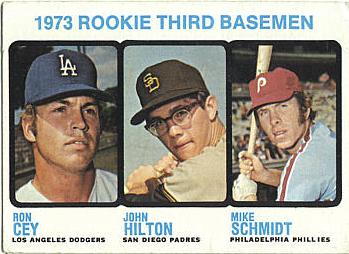 OOTD even addressed the issue previously with this post and this photo from the 1960s:
(Image of Mike Schmidt's 1984 Topps card courtesy of vintagecardprices.com; Schmidt's 1973 Topps card courtesy of homeruncards.com; coolest Dick Allen photo ever courtesy of dickallenhof.blogspot.com/obitoftheday.com)