Obit of the Day: Gold Medal Designer
When Dugald Stermer worked for Ramparts, a "New Left" political magazine based in San Francisco, it was a cutting edge publication. Known for its controversial covers including the burning of draft cards (including Stermer'), Stermer's son holding a Vietcong flag, and the one above, Stermer was instrumental to developing those designs and the visual appearance of the publication. Although Ramparts only lasted for thirteen years (1962 to 1975) its circulation reached nearly 300,000 and spawned two other better known magazines: Rolling Stone and Mother Jones.
Stermer, a graduate of UCLA, wasn't restricted by his political views, however. After the magazine closed he would find work drawing for other publications including GQ, The New Yorker, Time, and Rolling Stone. He also worked in advertising designing campaigns for Jaguar, Levi's, and BMW.
When Los Angeles was awarded the XXIII Olympiad by the International Olympic Committee Stermer was asked to design the medal. Here is the bronze, courtesy of quadrodemedalhas.com: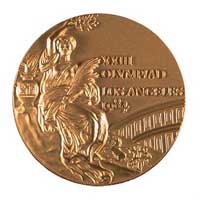 Stermer, who also served on the San Francisco Arts Commission and taught illustration at the California College of Arts, was 74.
(Cover image of the May 1968 issue of Ramparts is courtesy of the amazing Society of Publication Designers website.)
Note: The "Mark Twain flag" referenced above was actually written about by Twain in his disgust with the take over of the Philippines by the U.S. after the Spanish-American War. Disgusted with America's new imperialism Twain wrote: ""And as for the flag for the Philippine Province, it is easily arranged. We can have a special one - our States do it: we can have just our usual flag, with the white stripes painted black and the stars replaced by the skull and cross-bones." Thanks to the Historians Against War Blog.